Sous Vide Osso Bucco for 24 hours? You read that right. And yeah, it's delish and juicy!
Click here to go straight to the recipe.
What is Sous Vide?
According to wikipedia:
Sous-vide (/suːˈviːd/; French for 'under vacuum')[1] is a method of cooking in which food is sealed in a vacuum-sealed plastic pouch then placed in a water bath or in a temperature-controlled steam environment for longer than normal cooking times (usually 1 to 6 hours, up to 48 or more in some select cases) at an accurately regulated temperature much lower than normally used for cooking, typically around 55 to 60 °C (131 to 140 °F) for meat and higher for vegetables. The intent is to cook the item evenly, ensuring that the inside is properly cooked without overcooking the outside, and retain moisture.
Sous Vide Osso Bucco
Now that you know what sous vide is, it's time to get cooking.
Traditionally, osso bucco is braised slowly. With sous vide cooking, though, we can get optimum results by cooking veal shanks in a water bath at the ideal temperature without over-cooking the meat. For this recipe, apart from the juices from the sautéed vegetables, there is no additional liquid or broth added as the juices from the veal shanks themselves get the job done. This results in flavorful pieces of meat cooked to perfection.
The Cooking Time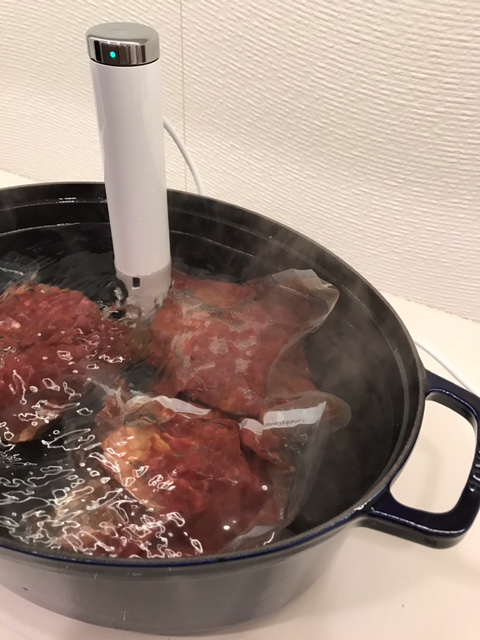 Twenty-four hours. It's a long time. It's slow cooking but it ensures your meat is cooked just at the right temperature. No overcooking here. Unlike braising, cooking this dish sous vide eliminates having to tend the pot periodically. No scorching the bottom of the pan and no drying up. You'll just have to monitor your water bath. Simple! You then get rewarded with fully flavored osso bucco cooked in its marinade for 24 hours. How bad can that be?
The Gremolata and Side Dishes
Let's not forget the gremolata. What is osso bucco without gremolata? Following below is a simple gremolata that rounds up your sous vide osso bucco. Serve with a side of green beans, gnocchi or try my recipe for Garlic-Parmesan Smashed Potatoes, then you're good to go!
Ingredients
4 veal shanks
salt and pepper to taste
4 tablespoons olive oil
For the marinade:
3 carrots, chopped
3 stalks celery, chopped
2 medium-sized onions, chopped
6 cloves garlic, minced
2 cups dry red wine
1/4 cup tomato paste
2 large bay leaves
4 sprigs of thyme
salt and pepper to taste
For the Gremolata:
5 tablespoons fresh parsley
4 cloves garlic
4 tablespoons lemon zest
coarse sea salt
Instructions
Prepare water bath. Set at

167 degrees F

or

75 degrees C

. For fall-off-the-bone osso bucco, set temperature at 176 degrees F or 80 degrees C.

Season meat generously with salt and pepper.

Sear meat on high heat in olive oil for 1 - 2 minutes each side.

Put 1 - 2 pieces of meat in a vacuum bag, depending on size of each piece.

Sauté carrots, celery, onions and garlic on medium heat until browned.

Add wine to deglaze pan. Cook until reduced by half.

Add tomato paste and stir.

Season accordingly with salt and pepper.

Spoon sauce into vacuum bags. Seal bags.

Cook in pre-heated water bath for 24 hours.
For the Gremolata:

Miix the parsley, garlic and lemon zest. Season with sea salt.
To Serve:

Put a single osso bucco in a bowl. Ladle some sauce over it.

Garnish each piece with prepared gremolata.
http://offoodandart.net/sous-vide-osso-bucco/
Learn more about sous vide cooking by exploring my site,  Of Food and Art.
Save
Save
Save
Save
Save
Save
Save
Save
Save
Save
Save
Save
Save
Save
Save
Save
Save
Save
Save
Save
Save
Save
Save
Save
Save
Save
Save
Save
Save
Save
Save
Save
Save
Save
Save
Save
Save
Save
Save
Save
Save
Save
Save
Save
Save
Save
Save
Save
Save