Caramel panna cotta. With sea salt. Yeah!
First of, I love panna cotta. It has this creamy but light feel. As a dessert, which is its most popular form, it's sweet and refreshing and can be served in elegant ways.
Savory panna cotta is wonderful too. It's great as topping for a salad, a spread for crackers or veggies, or as a base for a seafood salad like in my Crab Salad with Green Pea Panna Cotta (recipe to follow soon).
For this recipe, the caramel flavor is in the panna cotta itself.  If you want plain panna cotta, check back soon. I will be posting my simple go-to panna cotta recipe which I dress up with either a fruit sauce like raspberry or strawberry coulis, dark chocolate sauce or a caramel sauce.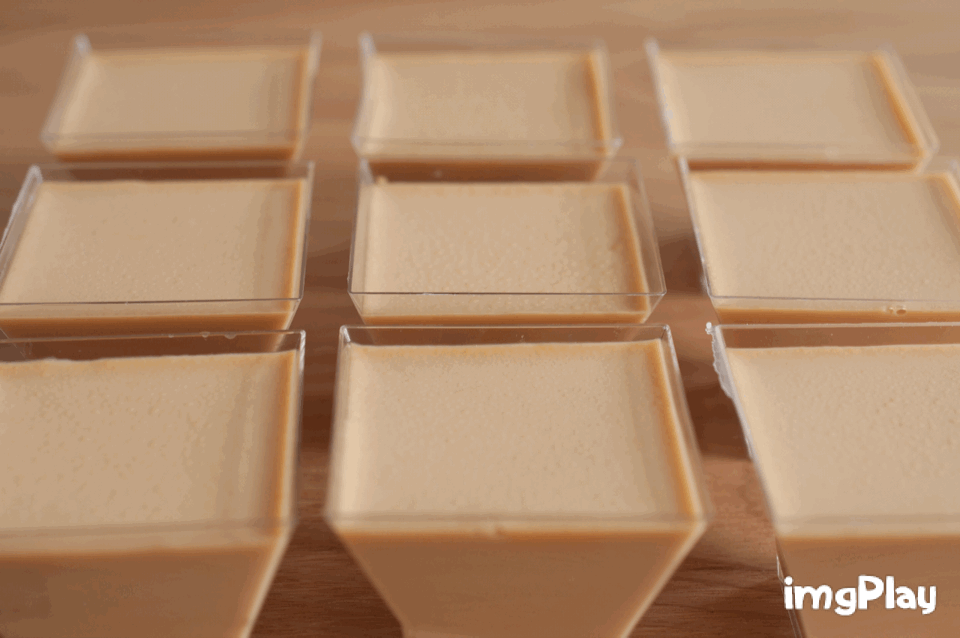 Click here to go straight to the recipe.
It's quick and easy
In a nutshell …
Soften gelatin. Combine then heat cream mixture. Make the caramel then combine with cream mixture. Dissolve softened gelatin into mixture. Chill.
Done! It's simple and quick.
The Bubble Game
Your caramel panna cotta may have bubbles that float on the surface of the mixture. Before it sets, either skim them off with a spoon or if you have a blow torch, ChefSteps.com suggests to lightly flash the surface to remove them. I use this method all the time and it works really well.
Serving Suggestions
Serve with a piece of pecan praline. Click here for my Versatile Praline Recipe.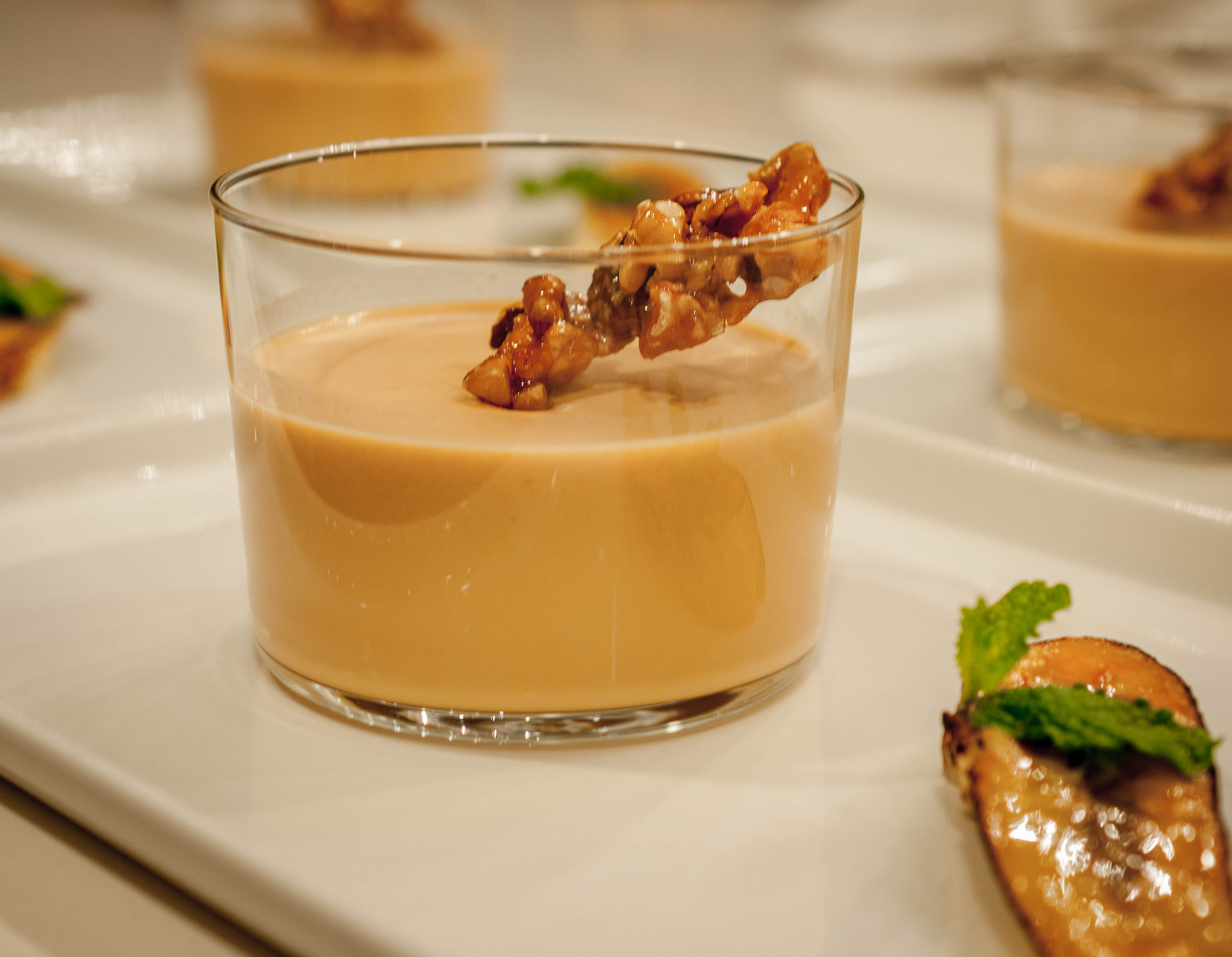 Or top with a dollop of whipped cream then sprinkle with crushed pecan praline. To make the crushed praline, follow my recipe for Versatile Praline, then pulverize the pieces in a food processor or blender.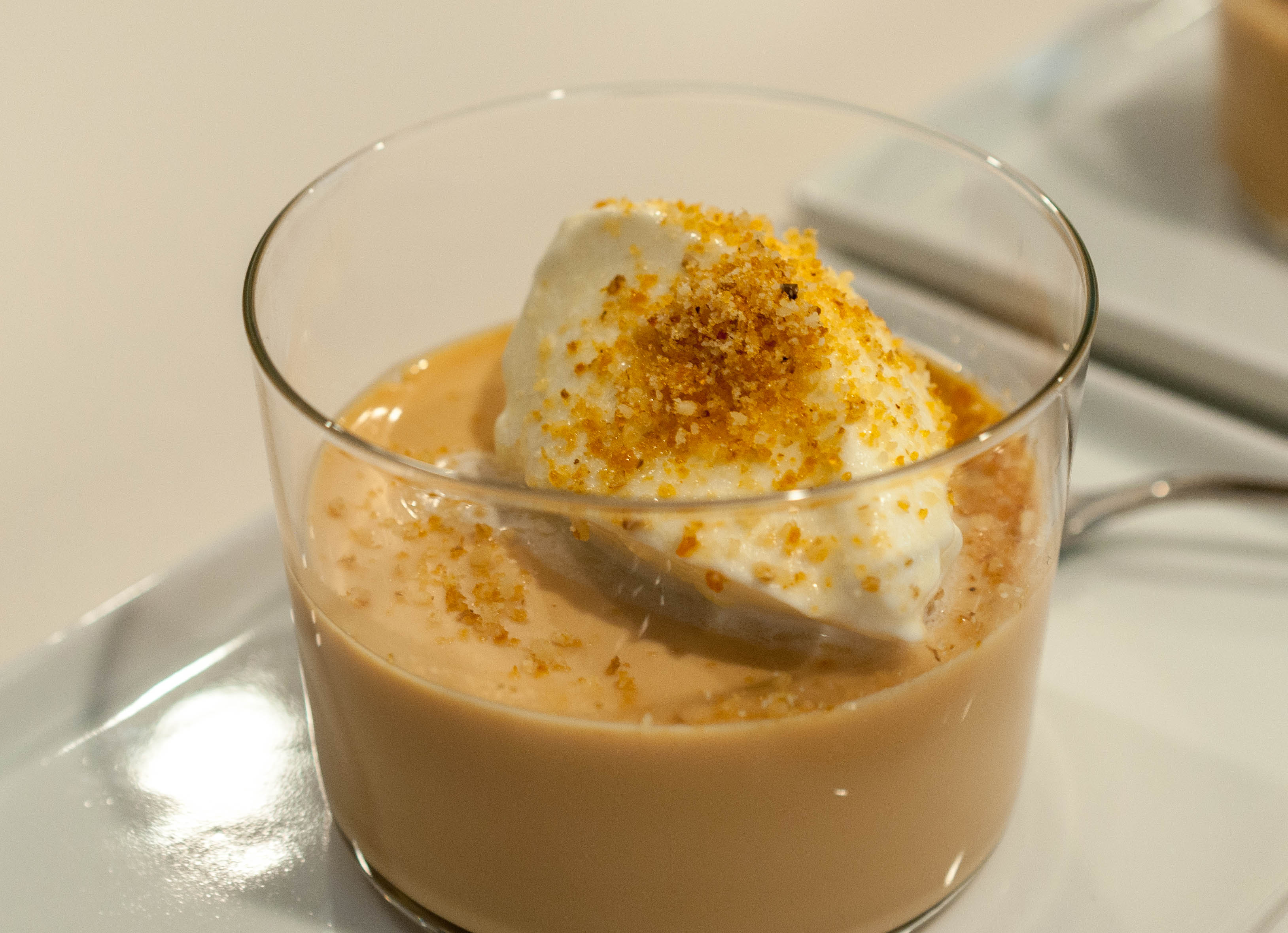 Or serve plain. Believe me, it tastes good as is.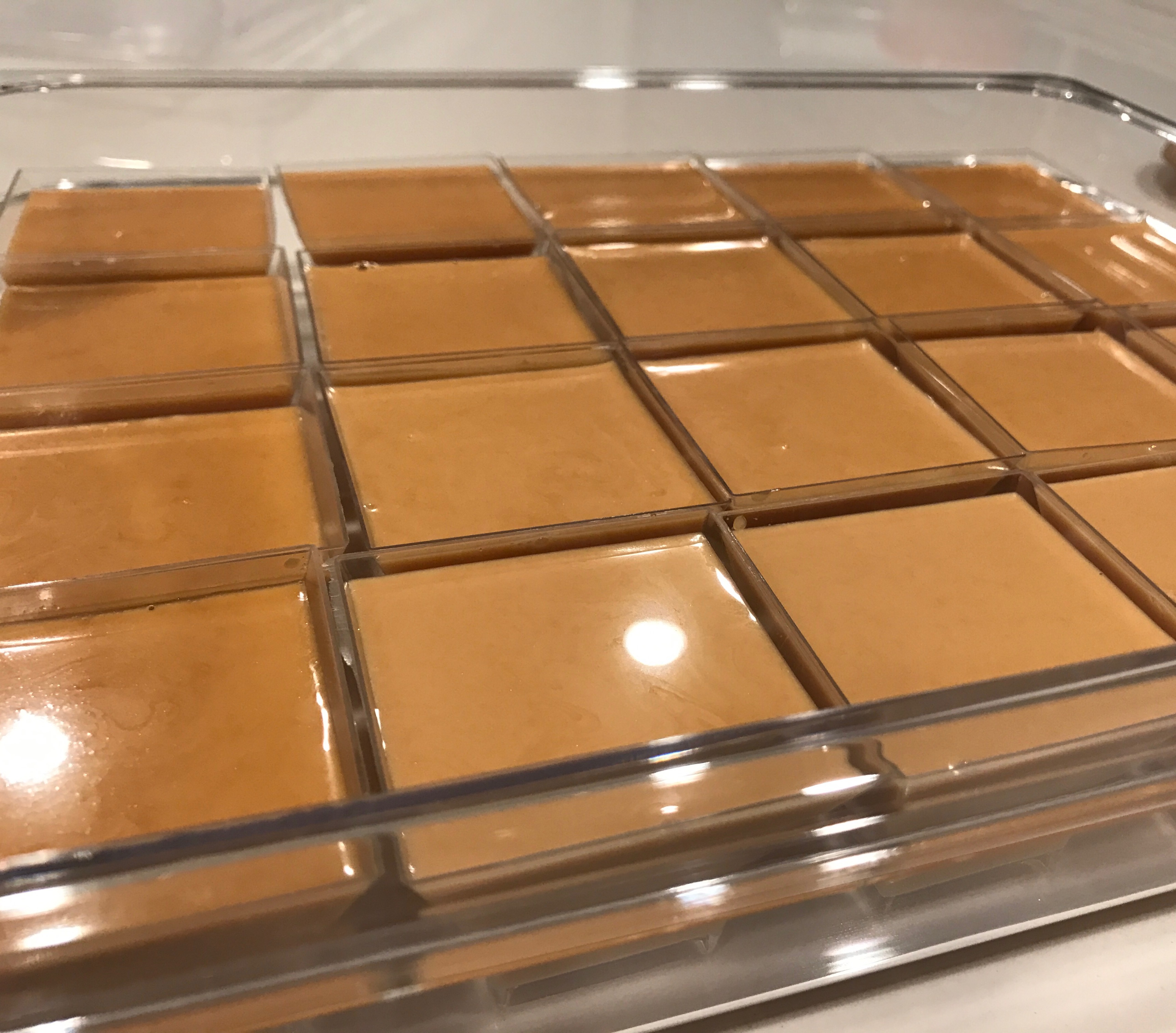 Explore more recipes at Of Food and Art
Caramel Panna Cotta with Sea Salt – A Creamy Treat
Ingredients
2 teaspoons unflavored gelatin
1/4 cup warm water
1 1/2 cups heavy whipping cream
1/2 cup milk
1 teaspoon vanilla extract
1/2 cup white sugar
1 tablespoon water
a pinch of sea salt
Instructions
Sprinkle unflavored gelatin over the 1/4 cup warm water. Let sit for at least 5 minutes.

Combine whipping cream, milk and vanilla. Heat over medium heat, stirring occasionally, until warm. Do not boil.

Put the sugar in a heavy-bottomed saucepan. Add 1 tbsp water.

Cook on medium heat until the sugar is completely melted. If needed, gently swirl pan but do not stir. You'll want the sugar to reach a golden amber color. Be careful not to overcook.

While on medium heat, carefully pour in the warm cream mixture into the melted sugar. The sugar may solidify. Stir until caramel has melted again. Remove from heat.

Add the gelatin mixture and the sea salt. Combine well, making sure the gelatin is completely dissolved.

Strain the mixture. Pour into small serving containers.

Refrigerate until set and chilled, at least 4 hours or overnight.
Serving suggestions

Top with dollop of cream and garnish with mint
http://offoodandart.net/caramel-panna-cotta-with-sea-salt/
Explore more recipes at Of Food and Art
Save
Save
Save
Save
Save
Save
Save
Save
Save
Save
Save
Save
Save
Save
Save
Save
Save
Save
Save
Save
Save
Save
Save
Save
Save
Save
Save
Save
Save
Save
Save
Save
Save
Save