Creamy Vanilla Ice Cream Recipe delivers an exceptional creamy treat.
Click here to go straight to the recipe.
I've tried different recipes for vanilla ice cream over the years and have found this to be my favorite. It's simple, flavorful and creamy. I think everyone who loves to make their own ice cream should have a reliable vanilla ice cream recipe. And this is it!
Vanilla extract or vanilla paste? And what about vanilla beans?
Any of the above will do. I like using vanilla beans or vanilla paste for this recipe since vanilla is the primary flavor of this ice cream, the star of the show. In other words, since it's not combined or masked with other flavors like strawberries, chocolate, caramel, coffee, etc, I feel the vanilla beans or vanilla paste elevates the simplicity of this ice cream. Plus, I find the tiny specks of vanilla that you'd get from vanilla paste or vanilla beans add a different level of enjoyment. However, flavor-wise, vanilla extract will certainly do the trick.
Versatile Vanilla Ice Cream
This creamy dessert is lovely served à la mode atop a hot slice of fruit pie. Or maybe serve it with a simple cookie or biscotti. It also goes well buried in hot caramel or hot dark chocolate, sprinkled with toasted chopped nuts and marshmallows.
Then there's affogato which is one of my favorite desserts. The hot espresso melting and dancing against the cold creamy vanilla bean ice cream work together so well! It's a race to get to the ice cream before the hot espresso melts it all.
Here's a simple serving of vanilla ice cream smothered with lemon curd that my dear friend Connie made. I topped it with a sliver of Walnut Praline (recipe to follow soon). The sweetness of the ice cream balances the sweet-and-sour-and-tart flavor profile of the lemon curd. Honestly though, Connie's lemon curd by itself is so good that you'll want to lock it in the fridge with a key, otherwise …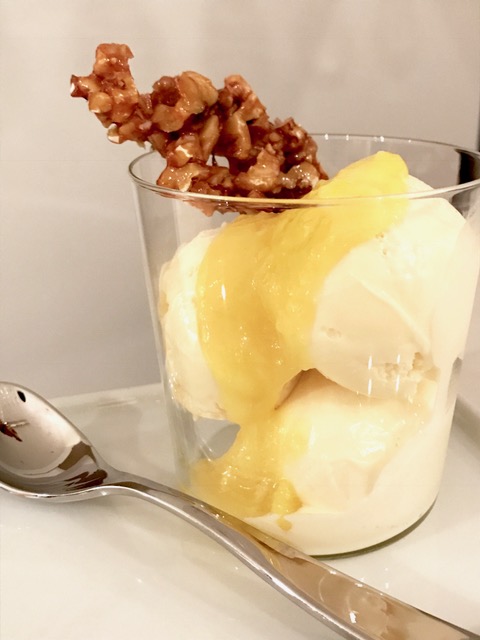 Click here for The Perfect Lemon Curd Recipe .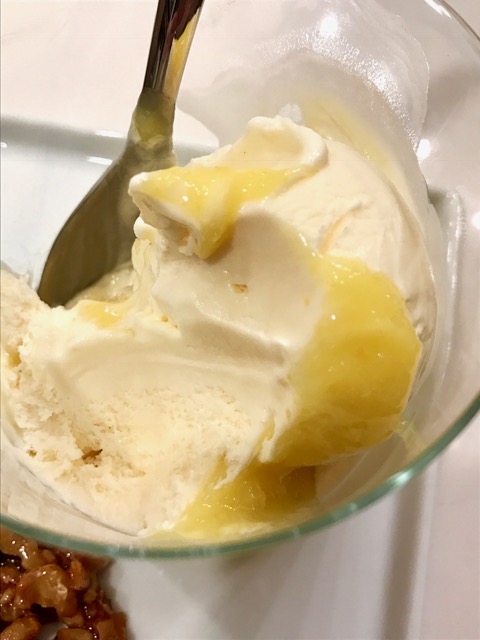 Happy eating!
Explore more recipes at  Of Food and Art.
Creamy Vanilla Bean Ice Cream
Ingredients
2 cups heavy cream
2 cups milk
4 large egg yolks
1/2 cup sugar
1 tablespoon vanilla extract or vanilla paste
1/4 teaspoon xanthan gum, optional
Instructions
Combine the cream and milk in a heavy pot. Bring it just to a boil over medium heat, stirring occasionally.

Add the vanilla.

Remove from heat. Let sit at room temperature for 30 minutes.

In another saucepan, beat together the egg yolks, sugar, and xanthan gum.
Make the custard

Pour the warm milk mixture into the egg yolk mixture.

Cook over low heat, stirring with a heatproof spatula until it thickens, ideally until it reaches between 170°F and 180°F.

Chill for 4 hours or overnight.
Churn

Churn the mixture in your ice cream maker according to the manufacturer's instructions.

Ice cream may be served immediately for a 'soft-serve' texture or kept in the freezer for a few hours for a firmer ice cream texture.
http://offoodandart.net/creamy-vanilla-ice-cream/
Explore more recipes at  Of Food And Art.
Save
Save
Save
Save
Save
Save
Save
Save
Save
Save
Save
Save
Save
Save
Save
Save
Save
Save
Save
Save
Save
Save
Save
Save
Save
Save
Save
Save