Here's a praline recipe that's versatile yet simple, quick and easy. It involves as little as two main ingredients and cooks in no time.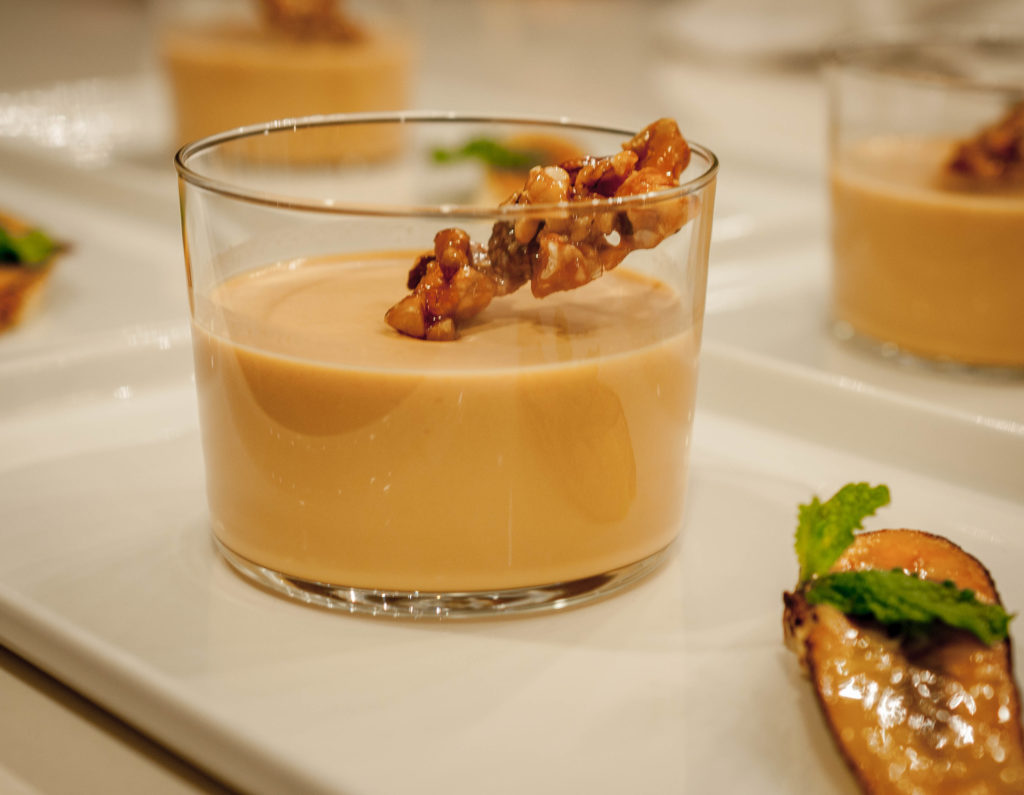 Click here to go straight to the recipe.
About the Praline Recipe
The Ingredients
Sugar and nuts. That's it. Ok, a little bit of water too.
This praline recipe is versatile. Pecans work well but other nuts are great too. Substitute pecans with walnuts, almonds or toasted cashews. Or use a combination of different nuts.
Aside from nuts, try hard pretzels. Thick, big pretzels are perfect for this recipe. Break them into smaller pieces then mix them into the caramel. The pretzel gives the praline a nice, good crunch.
Or try sprinkling sea salt or cayenne pepper to the praline before it sets.
Making the Praline
To cook the praline, use a heavy-bottomed saucepan to prevent the sugar from burning quickly. Add the water then melt the sugar on medium heat. Do not stir. If parts of the sugar start to turn amber while other parts have not melted, gently swirl the pan. Once the sugar turns amber, turn off the heat. This happens quickly so make sure you don't walk away from it. Immediately mix in the nuts.
Personally, I prefer a darker caramel so I cook the sugar a bit longer past the amber stage. The slight toasty taste gives it a little bit of an edge. If you'd like to go this way as well, be sure to watch your sugar. It can go past the light amber stage quickly and burn.
Pour mixture onto a silpat or a buttered pan or tray. For easy handling and removal, I suggest using silpat. The mixture will be hot and can burn so be really careful not to be in contact with it. The poured mixture will cool quickly so work fast when pouring onto the silpat or buttered pan
Shelf Life
Pralines will keep for 2 – 3 weeks in a dry, airtight container at room temperature. This makes it a great make-ahead recipe.

The Versatile Praline Recipe
Ingredients
1/2 cup sugar
1/4 cup water
1/2 cup pecans (may substitute with other nuts)
Instructions
Put sugar in a heavy-bottomed pan.

Pour water over the sugar.

Without stirring, melt sugar over medium heat until it turns a light amber color or it reaches light caramel stage (320 - 335 deg F or 160-170 deg C). You can swirl pan once the sugar starts turning amber. Turn off heat.

Once sugar is ready, immediately add chopped nuts. Mix until the nuts are fully coated with the caramel.

Pour the mixture on silpat or a buttered pan or tray, making sure not to touch the sugar as it can burn.

Let cool. Once it has cooled, break into pieces.

Store in an airtight container at room temperature. It will keep for around 3 weeks.
http://offoodandart.net/praline-recipe/
Explore more recipes at Of Food and Art.
Save
Save
Save
Save
Save
Save
Save
Save