Crispy Sous Vide Chicken Thighs
Chicken again for dinner! Well, here's a different and delicious way to serve chicken. Cook it sous vide then crisp it up for chicken that's moist and tender inside but with a nice crunch outside. But there's a technique to get it this way …
Sous Vide Chicken Thighs
After exploring the recommendations out there for finishing sous vide chicken, I narrowed it down to SeriousEats.com's J. Kenji López-Alt's suggestion. Click here to check it out for more in-depth information.
Needless to say, I went ahead and tried it and yes, I was very happy with the outcome. What a success! Thanks, Kenji!
Bone-in or Boneless?
Should I leave the bone in? I was concerned that the sous vide temperature would cook the chicken meat but leave bloody juices coming out of the bones when done. So I tried both: half of my chicken pieces were bone-in and the other half boneless.
For the boneless pieces, the meat was cooked nicely but true enough, bloody juices came out of the bones. So I vote for boneless. Just debone and save the bones for broth.

Prepping 'em
My plan was to serve the chicken with some sauce so I chose to season the thighs simply with kosher salt and freshly ground black pepper.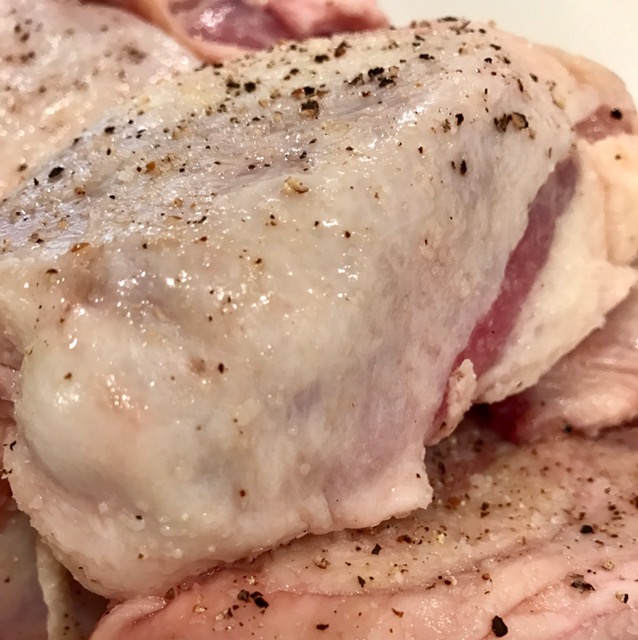 I then packed them in vacuum bags and cooked them in a sous vide water bath for 1.5 hours at 167 deg F (75 deg C).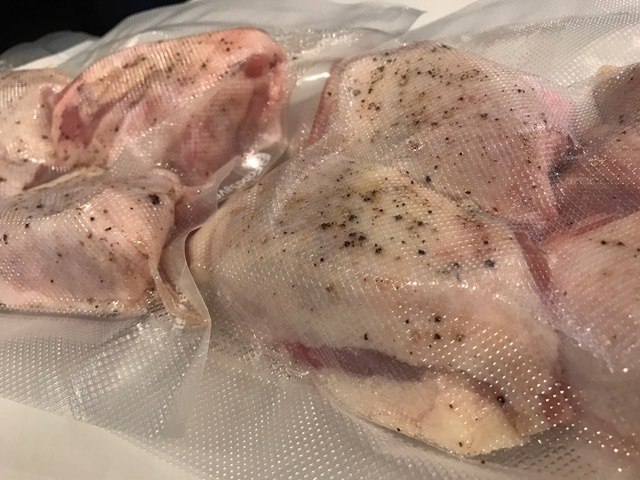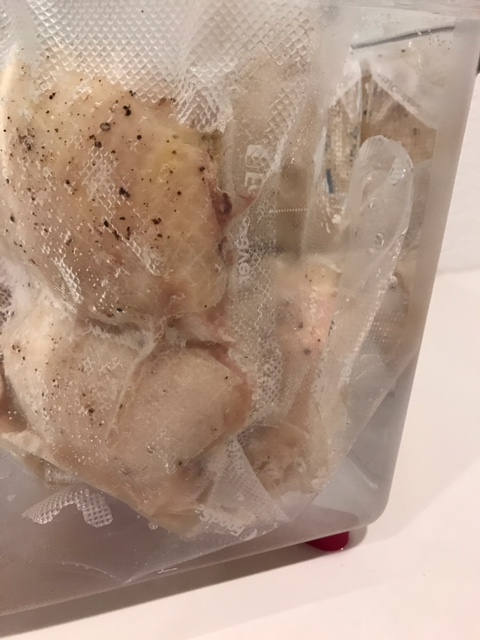 Chill 'em
Ultimately, I wanted crispy skin on my chicken thighs. But how do you get crispy skin without drying out or overcooking the meat? That's the point of sous vide cooking after all, right? The way to achieve this is to chill the pieces after cooking them in the sous vide water bath. Chilling them ensures that the meat doesn't overcook while crisping the outer surface. Either refrigerate them (overnight is best) or put them in an ice bath.
Dry 'em
Once the pieces are completely chilled, remove the gelled liquid sticking to the pieces then dry the chicken thighs with paper towel. Reserve the gelled liquid for making the sauce.
Crisp 'em
Heat 1 – 2 tabelspoons  of vegetable or canola oil. Place chicken pieces, skin side down. Use a heavy press, if you have one, to ensure the skin is in contact with the cooking surface. Otherwise, press down with a cooking utensil. Be careful, oil will splatter.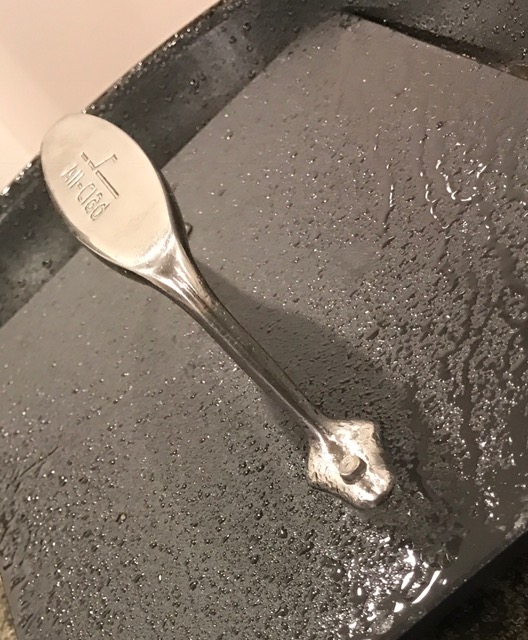 As you can see in the photo, it can be kinda oily-messy.
One minute should be enough to give the skin a good crisp. Flip the pieces and cook for another minute.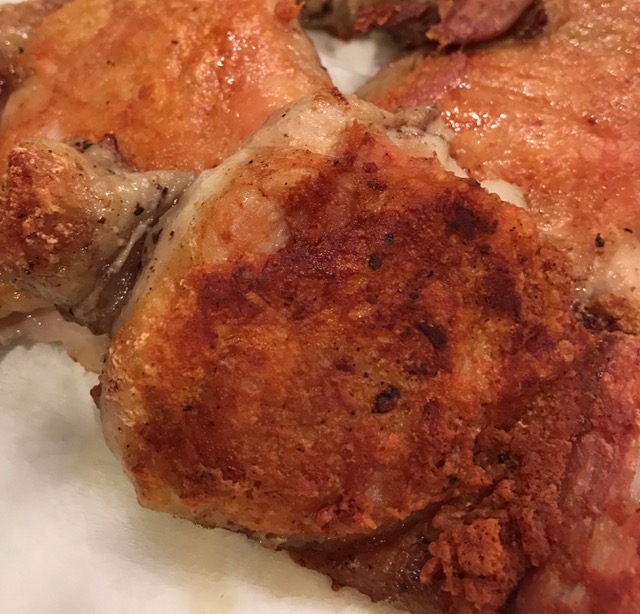 Look at that solid surface that has cooked to a beautiful crisp!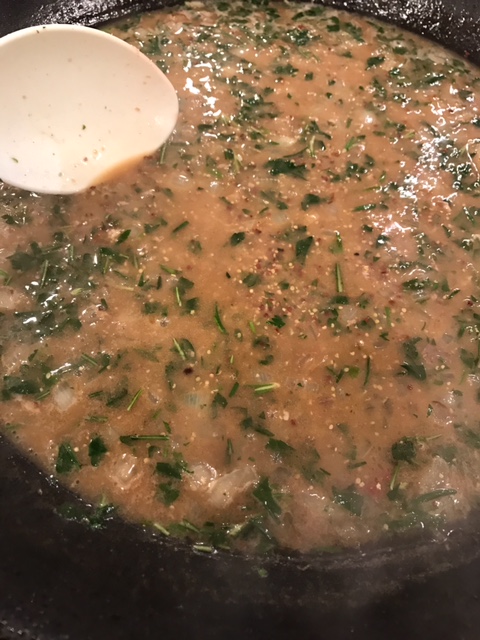 Now back to the gelled drippings from the sous vide bags and saved from the chicken pieces. I used it to make a sauce as I didn't want to waste all that flavorful goodness. Threw in some herbs, garlic, stone ground mustard, white wine, salt, pepper and voila … !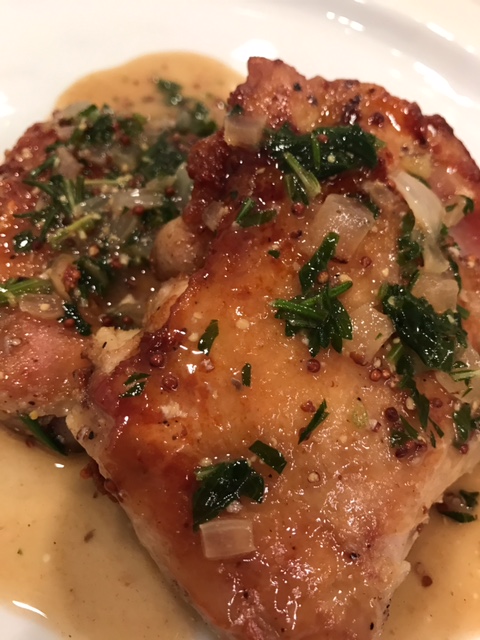 Explore more recipes at Of Food and Art.
Save
Save
Save
Save
Save
Save
Save
Save
Save
Save
Save