Here's an easy but totally wonderful way to serve potatoes. These Garlic-Parmesan Smashed Potatoes are exactly as the name states. Garlicky and cheesy!
Click here to go straight to the recipe.
Smashed Potatoes
There are so many ways to make and present potatoes. This recipe is a twist to the usual baked potatoes, fries, potato chips or mashed potatoes. The potatoes are like baked potatoes but in a slightly tender form. They are boiled, smashed, then baked.
I like using medium or small potatoes for this recipe. We start by boiling them until tender enough to smash.
Make the sauce then drizzle over the potatoes. They then go in the oven and voila! … you have a tender and flavorful dish.
A Vegan Option
Although this recipe has butter and cheese and therefore not vegan, it can easily be made into a vegan dish by substituting the parmesan cheese with vegan cheese (or omit altogether) and the butter with olive oil.
Other Toppings and Serving Ideas
We can get creative with these potatoes.
If using small or mini potatoes, they're great served as appetizers or tapas dish.
Add more herbs and garlic as you so desire.
Treat them like you would baked potatoes. Think sour cream, crumbled bacon, chopped green onions … cheddar cheese, crumbled goat cheese ..
And we can add some drizzles. Get the olive oil out. Or go with flavored oils like basil oil, cilantro oil, mint oil, or saffron-infused oil.
Then some sprinkles … how about some Maldon sea salt, freshly ground pepper, some cayenne for a little kick or crushed red pepper? Or add more of the fresh chopped herbs.
Give it a try. Once you do, you'll find yourself making them often. They're so versatile that they can be made different each time.
Here's a variation. I used goat cheese instead parmesan cheese.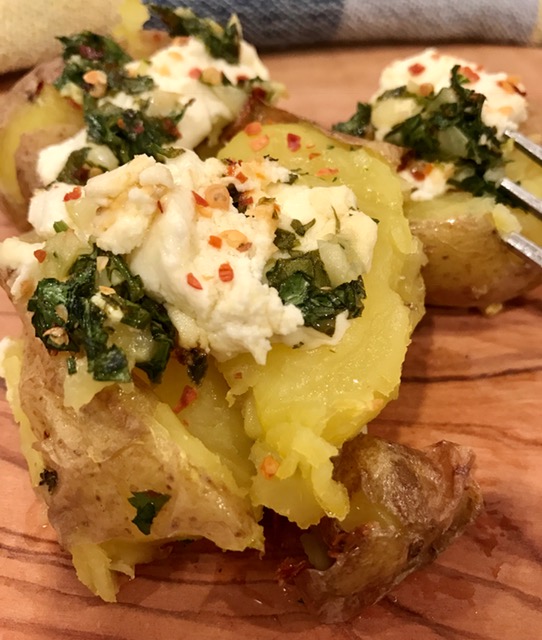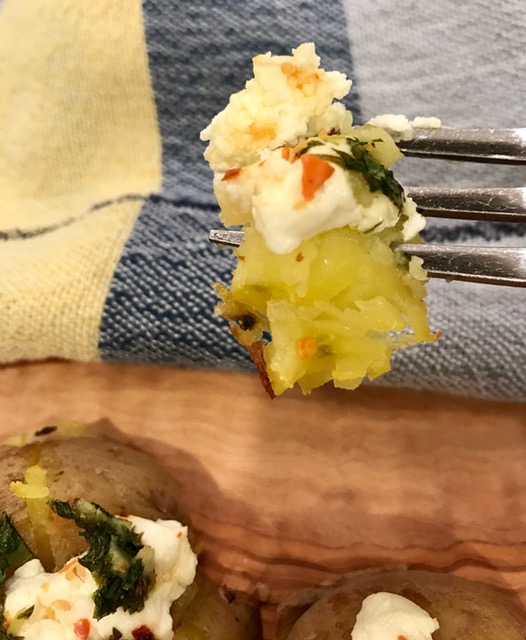 Garlic-Parmesan Smashed Potatoes
Ingredients
2 pounds small or medium-sized potatoes
6 - 8 cups water, enough for boiling potatoes
1 1/2 teaspoon salt
For the garlic-parmesan sauce
2 tablespoons olive oil
2 tablespoons butter (for vegan option, substitute with olive oil)
4 cloves garlic, chopped coarsely
4 tablespoons parsley or cilantro, chopped
2 tablespoons mint, chopped
1 teaspoon salt
3 tablespoons grated parmesan cheese
For the garnish
1 tablespoon parsley or cilantro, chopped
Freshly-ground black pepper
Crushed red pepper
Instructions
Preheat the oven to 450ºF.

Boil water in a large pot with 1 1/2 teaspoons salt then add potatoes.

Cook the potatoes in boiling water until tender, about 15-25 minutes, depending on the size of the potatoes. Potatoes should be tender enough to be smashed. Cooking time will depend on the size, variety and the firmness of the potatoes before boiling. Potatoes are ready when a knife passed through goes in easily.

Drain the potatoes and put them on a baking sheet.
Prepare the Sauce

Combine all the ingredients in a small pan.

Heat on medium heat until the butter melts completely.
Bake the Potatoes

Smash the potatoes using a small flat-bottomed heavy drinking glass, ensuring they remain in one piece.

Drizzle sauce over the potatoes.

Bake the potatoes for 12-15 minutes until the tops are golden brown.
Final Assembly

Sprinkle potatoes with freshly-ground pepper, the remaining herbs and crushed red pepper (if desired).
http://offoodandart.net/garlic-parmesan-smashed-potatoes/
Explore more recipes at Of Food And Art.
Save
Save
Save
Save
Save
Save
Save
Save
Save
Save
Save
Save
Save
Save
Save
Save
Save
Save
Save