Food for the Gods – Moist and Chewy Date and Walnut Bars
Acknowledgements
First of all, I'd like to give credit to my sister-in-law, Alice, who has shared this recipe. Thank you so much!
Click here to go straight to the recipe.
Food for the Gods – What is it?
Funny name, Food for the Gods. Once you've tried them though, you'll understand why.
So let's get right to it. These chewy bars are definitely a wonderful treat, especially during the holidays. They are moist and dense, thanks to the dates and sugars (combination of white and brown) incorporated in the batter. The nuts, on the other hand, give them good crunch.
We start with roughly chopped dates and nuts then mix them with the flour. This part is an important step as it coats the dates and nuts so that the pieces are separated and distributed evenly throughout the batter. We definitely don't want clumpy bars where we get all nuts or all dates in our bar. Otherwise, let's just eat nuts or dates straight, right?
As I mentioned earlier, we have two types of sugar for this batter. I think the brown sugar in this recipe helps give these bars a nice texture and flavor. There are equal parts of brown sugar and white sugar called for in this recipe. Sometimes I put more brown sugar and lessen the white sugar to change things up a bit. Either way, it always turns out great.
Once everything is mixed together, the mixture will be chunky and really thick. Make sure the dates and nuts are covered with batter. Also be careful not to over-mix so the dates and nuts are not crushed. You'll want the final product to be chunky.
Baking and Presentation
The recipe calls for 40 minutes of baking time. Since ovens vary, check with a cake tester (or toothpick) after 30 minutes if it comes out clean. If some batter still sticks to the cake tester, go ahead and add a few more minutes. You'll want to stop baking just right about when the cake tester comes out clean.
Traditionally, we would wrap the bars individually in foil and colorful cellophane.  During the holidays, though, I like using green, red and clear cellophane.
Realistically, though, these bars will get consumed so quickly that it may not be worth the time and effort to wrap them.
Happy baking!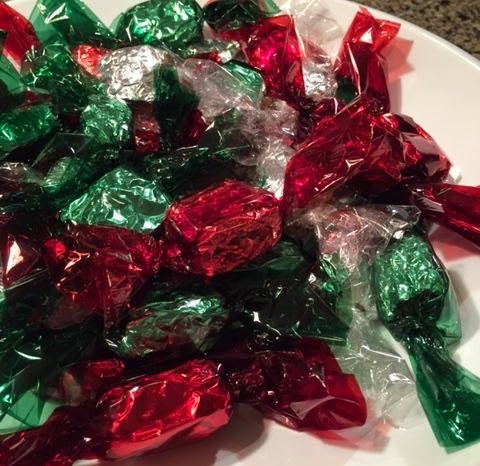 Explore more recipes at Of Food and Art.
Ingredients
1 tsp butter, softened (for lining baking pan)
2 cups dates, chopped
2 cups walnuts, chopped
1/4 cup all-purpose flour
1/4 teaspoon salt
1/2 teaspoon baking soda
1 cup all-purpose flour
3/4 cup unsalted butter, room temperature
2 eggs
1 teaspoon vanilla
3/4 cup white sugar
3/4 cup brown sugar
Instructions
Preheat oven to 300 degrees F.

Coat the pan with a thin layer of butter. Line the bottom of the pan with parchment or wax paper. Spread another thin layer of butter on the paper. Set aside.

Combine the chopped dates and nuts in a medium bowl. Add the 1/4 cup flour. Mix the ingredients lightly so the pieces are dredged in flour. Separate any pieces that are clumped together. Dredging the pieces in flour ensures that the pieces are distributed evenly in the cake batter. Set aside.

Combine the salt, baking soda and 1 cup flour in a small bowl. Set aside.

Cream the butter. Add the eggs one at a time, mixing well after each addition. Add the vanilla and the sugars and blend well. Add the flour mixture. Mix well.

Add the dates and nuts into the cake batter. Combine well. Mixture will be thick and chunky.

Transfer the mixture to the prepared baking pan.

Bake in preheated oven for 40 minutes or until cake tester comes out clean.

Let cool. Cut into bars. Wrap in cellophane wrappers or serve in muffin cups.
http://offoodandart.net/food-for-the-gods/
Explore more recipes at Of Food and Art.
Save
Save
Save
Save
Save
Save
Save
Save
Save
Save
Save
Save
Save
Save
Save
Save
Save
Save
Save
Save
Save
Save
Save
Save
Save
Save
Save
Save
Save
Save
Save
Save
Save
Save
Save
Save
Save
Save
Save
Save
Save
Save
Save
Save
Save
Save